What are the various platforms available for an eCommerce website development?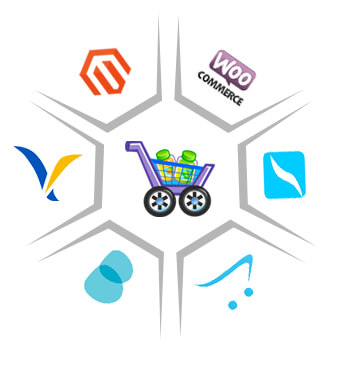 The global ecommerce market is growing at a rapid pace as every business just wants to jump on the bandwagon of selling products through online stores. With the continuous uprising trend in number of customers buying things online day by day it's clear from the fact that this online shopping trend is sure going to rule the internet in the coming days. If you are planning to start an ecommerce store, it's vital to choose the right eCommerce platform that can streamline your online business and guide you in generating improved ROI.
A plethora of options are available when it comes to selection of eCommerce platforms, but the wise decision would be to choose the best among all which can deliver robust user experiences. The online store should be SEO friendly to stand out on search engines, easy to use and this will go a long way in achieving the desired business goals.
Here's the list of top 5 eCommerce platforms that show great results:
Magento:
Celebrated as the fastest growing platform amongst all platforms, Magento offers the robust eCommerce store with several advanced features required for state-of-the-art online store. Reputed for its reliable performance and scalability Magento is the market leader now. Magento brings to you the best user experience and is ideal for enterprise-level businesses with complete customization as its open source, huge amount of plugins for comprehensive features and strong SEO support. Magento is known as a jack of all trades kind of platform.
Shopify:
Shopify is the most used & the most popular eCommerce platform used by ecommerce development companies and focuses on social commerce and mobile shopping. Known for its easy integration, high loading speed, ease of use, varied payment gateway options & of course the comprehensive SEO friendly options Shopify also has the option to connect your online store directly with Facebook page for selling which is an advantage.
OpenCart:
OpenCart is one of the most simple open source platforms widespread among small businesses with unlimited number of products. The main plus points of OpenCart are its easy to use backend, feature-rich plugins and lesser load on server. OpenCart is the thing for you if you are looking for a simple and easy to set eCommerce platform without much technical knowledge.
WooCommerce:
WooCommerce is one of the leading open source eCommerce platforms for WordPress with seamless and easy integration. It has a large number of plugins and themes available & is more user-friendly and cost effective eCommerce solution that can get your store online.
PrestaShop:
PrestaShop is one of the popular names in eCommerce industry as a large number of stores are using this platform. It offers the most advanced shopping cart functionalities, & is both easy to use and customize as per your needs. PrestaShop comes with robust backend support and thousands of modules to add on the store & it can surely get your online store running quickly.
Conclusion
Choose wisely your eCommerce platform as every platform comes with its own benefits and loop holes.  Choose according to your needs, budget and technical support required to get the store online quickly. Switching platforms after the online store is set up can be very difficult hence make sure you take a prudent and informed decision with a good amount of foresight. You can get guidance and support from the best eCommerce website development company available in the market. With years of expertise in this field they can guide you with robust web development services fully customizable as per your budget.