Content Marketing Metrics that you need to start using today!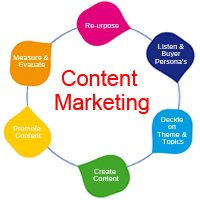 I, believe a rough calculation of the marketers using basic metrics such as clicks and downloads to analyse content effectiveness will be nearly 50% of the total population submitting their content over the internet which is a fairly depressing figure. What about the rest?
Another saddening sight is of the 17% who have no measurement metrics set at all. Think about your clients who entrust you with their business promotion through effective content marketing techniques. What are you giving them when they are expecting you to bump them with an improved turnover for their hard earned investment of money.
Money might be secondary when it comes to building relationships with customers online through trust. So, when you are client is investing a good part of their resources on content marketing it is your responsibility to measure the results and ensure that it meets the business goals.
Here I am listing out a few content marketing measurement metrics that you can easily implement and check for the results:
How long does a content stay: Content longevity is one of the metrics that will help you to measure content effectiveness. You spend a lot of time and money curating an impressive piece of content, but actually is it fetching you profit and for how long? There are certain tools that are available for free that can be used to compare and measure how well a content plays its role in impressing people over the different social media networking sites like the Facebook, Twitter, Tumblr or LinkedIn. This data will help you to decide on how long a piece of content marks its charm in bringing active engagement over these sites. The number of video views, sign ups for landing pages and blog visits also contribute to measuring content marketing effectiveness.
Engagement time: Now, that the longevity has been decided, you need to determine the customer engagement time over your content. See your competitors are always experimenting with newer techniques and the crowd out there is always welcome to embrace change that is inevitable. So, put in some content that seems to stand out from the crowd to increase the customer engagement time over your content. It seems visitors who account to a higher engagement time provide a greater brand recall statistics.
Readers who return: Now that we have discussed about content longevity and content engagement time let us check out the impact of how the return readers affect the content marketing metrics. While you are trying to build in relationships through content that engages and draws in people  to stay with you, the readers who return are always a best place to start. It means your content has quality and depending on the number of return readers you can devise a better strategy for writing an improved piece of content.
These metrics are amongst the most important ones that will help you to measure how and what kind of content stays in trend for long. There are a few more tactics that needs to be taken into consideration and I will be discussing the same in my next blog.
Taurus Web Solutions is an offshore software development company providing SEO and content marketing services at affordable prices for all kinds of businesses. Visit our website at www.tauruswebsolutions.com to know more.