Are Tablets Replacing Desktops?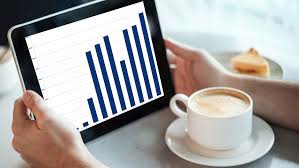 What is a tablet? A tablet is neither a desktop PC nor a notebook but offers a better operational dais combining the functional features of both. People belonging to different calling in the society starting from school going students to business people including medical practitioners have been inundated by the ebullient nature of tablets which has been the main reason for their increasing demand. The name tablet suits it best, because it resembles a tablet in appearance while operating just like a desktop PC. Some of the tablets are rotatable and the most exciting feature is the facilitation to use pens. Students do not have to carry on loads of notebooks to take down the notes, instead these books can be replaced by a tablet PC.
It has been found that these days more number of people are switching over to tablets. The growing popularity of tablets is mainly due to the following reasons-
Ease of use- Tablets are conventional light-weight devices that are easy to carry. You can hold them easily with both your hands or even with just one hand. For example you are the owner of a boutique and you happen to travel in a bus or train when you befriend a passenger near to you and speak about your business and the kind of products you market and the person expresses a wish to check out the specimens of your products. You just take up your tablet and scroll down through the image gallery displaying your products and are able to impress your co-passenger who eventually turns into a business prospect integrating sales. How do you rate it?
Multiple functionality- You would be thrilled to learn about the various functions that a tablet facilitates. It allows you to watch movies, play games, and all the other functions that a normal desktop PC allows you to perform. Moreover it is best to make use of tablets for online reading. You do not have to strain to read as you can hold it comfortably in synch with your eyes.
Operating systems that are desirable- Most of the tablet PC's are ported with Windows RT or iOS operating systems which are among the most reliable ones in the market. These are among those operating systems that are preferred by one and all.
Cost-effective- You do not have to spend a lot of money when buying a tablet PC as it is easily available at affordable rates. You can choose the one that supports your needs and easily fits into your budget.
Forever handy- You do not have to strain yourself too much for connecting over the internet as it easily allows you to do so with a variety of features that it supports. It supports email access, facilitating the connection across a large number of social media networking sites including Facebook. Twitter, linkedIn etc. You do not have to wait till you get home or office to get these done.
Takes over smartphones- The wide variety of features that it offers has made it the first choice for the tech savvies over smartphones. No one will take strain to read an e-novel over a smartphone whereas it is easy to read the novel over your tablet without irritating your eyes.
Check out in your nearby outlets or the online stores specializing in the sale of the latest models of tablets and purchase the best brand that fits well into your budget.