Do you think your content writing efforts are not paying off? Here are some tips that can help you grab eyeballs………..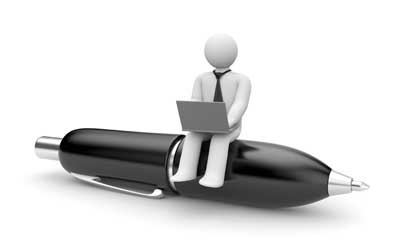 Well, so it doesn't matter what kind of business you are promoting or its size or the genre to which your customers actually belong. Here, all that matters is great content. Being a content curator by myself, I take immense pleasure whenever someone says "Content is King" and yes my dears it is. And another happy news is that this strategy of online marketing is neither going to be replaced nor is going to be modified under any context. Why? because we all need information.
If you are an excellent and creative writer you would not be in short of words to convey your message to the world, but let me not inflamate a prejudice regarding certain writers who often get stuck half way down while curating content. Here I would like to point out some effortless tips that you can utilize to draft masterpiece articles:
Opt for story telling: Do you think all the people who develop evergreen articles are proficient in Grammar and make no mistakes? Absolutely wrong notion, of course there are flaws, but all that lies under the cover of how you carry your idea of conveying the reader. Choose to tell your tale through a storytelling process and I bet people will start liking you. Just give it a thought, before choosing to write on a topic, give it a rehearsal, imagine you were sitting with a client over discussion in a face-to-face mode and all the things you would be saying to convince them.
Now, I can see you smiling and holding up your story. Put it up into words, don't fuss yourself with grammatical or spelling syntaxes that might go wrong during the process. All that it matters now is a story, you can weave stories from past when a product or service under your brand has helped someone with quotes from that someone to suffice the genuinity of your story to convince the reader. And do not worry, you can clean up the grammatical errors with someone's help before posting the masterpiece work you have curated. Believe me this is the first step and you almost done.
Podcasting: If you are least confident with your writing capabilities, then I would suggest you try out podcast. Here, you are saved of the effort to bring in an Oxford style writing or the fear of being screwed for omitting the punctuations and exclamations. You can practice it on a regular basis as it requires hardly any effort the maximum work you have to do is record an audio and post it. The audio can be anything starting from the benefits of opting your product, or interviews to the latest trends prevailing in the market and the only important thing that is to be noted all the audio that you record should be industry specific.
Videos: I have read somewhere that a single video is worth millions of words. If you get bored with curating blogs after blogs and find nothing new or interesting to convey your audience try creating a video series for your blog or YouTube. It plays an important role in email marketing as it helps to increase the click through rates as well as Google search results are found to love videos and assign them higher ranks.
Conclusion:
If you still think your writing skills are weak and cannot parse the industry standards of writing then it is high time you considered hiring or outsourcing your content. In today's digitised enterprise you cannot survive if you lack a proper voice that addresses consumers if you have plans to do some serious business and flourish for better.
At, Taurus Web Solutions we take pride in being the number one offshore software development company in Cochin, Kerala providing a range of website development and search engine optimization services at affordable prices for all kinds of businesses.